Google I/O Developer's Conference started on May 17th and the company made so many great announcements that weren't only meant for the developers but for the consumers too. Google on their first day of the conference didn't mention any technicalities that could go over the head of the consumers. All the announcements include something for the users that could bring more ease to their daily usage.
Google's CEO Sundar Pichai first took the stage and talked about some of their accomplishments and then proceeded with some important unveils which are consumers' specific.
First off, it's about the number of Android users.
Number of users on Android, YouTube, Google Drive, and Google Photos
Pichai proudly announced that their Android OS now has more than 2 billion monthly active users. This makes it the world's biggest smartphone operating system. Google didn't really disclose the exact numbers of users coming on its apps but did say that over a billion monthly active users use Google Search, Android, Chrome browser, YouTube, Google Maps, Google Play, and Gmail. Also, YouTube users now watch more than 1 billion hours of videos each day.
Similarly, the number of Google Drive users has also increased; Google Drive now has over 800 million active users. Also, Google Photos has now crossed 500 million active users with over 1 billion photos being uploaded to it each day.
Google Lens
Google Lens is actually an initiative to make use of Google's digital AI assistant at more places. Google Assistant now resides on every Android smartphone that runs Marshmallow OS or above. And, now, Google is expanding the use of their Assistant so that to make it smarter and interactive than before. In short, Google Lens makes use of Google Assistant in the best possible way by providing you the solution for most of your tasks.
Google Lens works in conjunction with your smartphone's camera to tell you about the power of machine learning and how far the efforts of Google in terms of image recognition have reached. Google at their keynote, provided an example of how Google Lens with the help of your smartphone's camera can identify things and let you know more about that image and interact with it by using the Google Assistant.
During the demo, Google showed off how could you point your camera and know anything about it via Google Assistant. The demo put the camera on a flower and Google Lens recognizes the type and name of the flower and further, the Google Assistant comes up with several suggestions, which you can choose to know more about it.
Also, the Assistant app will soon contain a button, through the use of which users can launch Lens and insert a photo into the conversation with the Assistant, where it can process the data the photo contains.
Google Photos new tool removes unwanted objects from Photos
The most-wanted tool has arrived at the Google Photos that will let you remove those unwanted objects from your beautiful shots.
gif courtesy : TheVerge
Google provided an example that how Google Photos removes the fence from the picture in which the child is playing the baseball. Google stated that this new feature will arrive soon.
Google Home gets new features
Google I/O Developer's Conference is incomplete without the Google Home news, well because, it widely demonstrates the use case of Assistant and Google's efforts in terms of machine learning. Google Home gets three new features and these are hands-free calling, visual responses, and proactive Assistant.
The first feature lets you make hands-free calls via Google Home to anywhere within the United States and Canada. Just say "Okay Google" followed by the name of the recipient and "make call" command to make calls via your Google Home. The Visual Responses feature sends notifications to the devices wit displays like Smartphones, tablets, etc. So, with the help of this, you don't just listen to your reminders but can also take a look at them in your devices.
Next up is the Proactive Assistant, as the name implies, this feature is proactive and will only send you notifications without any sound. Just say, "what's up?" and your device will show you all the notifications. It's the best way if you don't want to get disturbed with each and every notification.
Next up, Google Home now supports more media content providers. Home will be coming to Canada, Australia, France, Germany, and Japan in coming months.
Google Assistant with a plethora of new features and capabilities
Google Assistant got the major chunk of the Google I/O first day Keynote. The AI assistant gets many new features and capabilities that will make the life of the users definitely easy.
iPhone users, make some room for Google Assistant!
To start off, the Google Assistant is now available for your iOS too. So, it's not just the Siri that will reside in your iPhone, make some room for Assistant too!.
Finally, asks questions to Google Assistant via the keyboard
You can simply write your query to Google Assistant with the help of the keyboard. This may be helpful for those who are dumb or deaf. This is something Apple may bring soon to their iPhones too but via iMessages. A recent patent illustrated that with the help of iMessage one can interact with Siri by typing up the queries. Well, iPhones now get two options to get their work done.
Google Assistant SDK available -
Google makes available the SDK available to the developers so that the third-party apps also make use of the Google's AI Assistant, though the SDK was already available, but Google just re-announced the availability.
Make purchases via Google Assistant -
Google Assistant now finally lets you make purchases. So, order your favorite meal, clothes, or just anything with the help of the Google Assistant on your phones or Google Home. This new transaction tool is called an "action" for developers. Google demonstrated how easy it is to order something with the help of Assistant. After the order is done, the user gets presented with the total cost. Then they move on to choose the payment method and finally confirm the order.
Google announced that currently, there are more than 70 partners in place that support the ordering and transactions via Google Assistant.
Support for new connected devices -
Google at their first day of I/O Keynote announced that their AI assistant will now support more connected appliances including fridges, ovens, washers and dryers, an air purifier from LG, and an air conditioner and water heater from GE. But, you'll have to be very specific in making your requests to the Google Assistant. For instance, for working with any GE appliance, you have to command Google Assistant as "OK Google, ask Geneva Home if the dishes are clean," since Geneva Home is the name of its connected app. So, this is an awkward use.
Android TV gets Google Assistant support -
Google Assistant will soon be integrated into the Android TV to let you control several tasks via your voice. Google already confirmed this back in January but declared at their first day of I/O keynote. Google said that Google Assistant will be rolled out to all TVs and set-top boxes featuring Android TV support.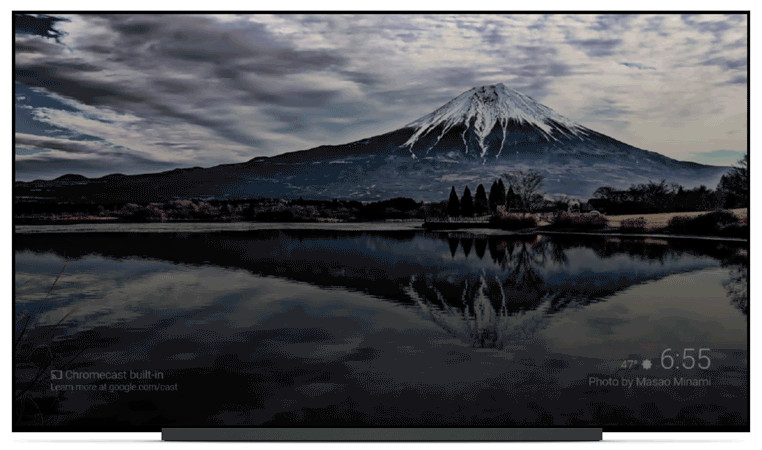 A user can control several things via their voice only. For instance, say "Okay Google" Play content: "Play Stranger Things on Netflix."
Apart from this new capability, Android TV home screen now exhibits a new app drawer with favorite apps on the top, notifications, and shortcuts for recommended content.
Google Photos three biggest new Features
Google Photos gets three new features, these are Suggested Sharing that suggests you the name of your friends just after you click a picture in order to share them with them quickly. Second, is Shared Libraries that automatically share your Photos library with your loved ones, though with proper control, of course.
The third is Photo Books that turns your library into a physical copy with Photo Books. Pricing for photo books starts at just $9.99 and $19.99 for a larger one.
360-degree YouTube videos, Super Chat API
Google at their first day of I/O 2017 keynote announced 360-degree YouTube videos for the TV. Yes! YouTube will soon support 360-degree videos on the biggest screen in your living room.
Next up is the Super Chat API, which is basically expanded the application of the Super Chats introduced by YouTube earlier this year. The Super Chats allows users to get their comments highlighted and pinned at the top of the comments section. Now, the Super Chat API will allow the viewers to trigger real-world actions like turning lights off or flying a drone and these real-world actions will be set up by the particular YouTuber
Android O and opening of first Beta
One of the biggest announcements was indeed the newest version of the Android operating system, which is Android O. No, Google didn't yet name this, but did announce a few new features of the same. Google categorized new features into two main categories, one is Fluid experiences and another is Vitals.
The first, as the name implies, takes care of the experiences that could provide users a smooth and seamless experience in accessing various apps. This includes various features like Picture-in-Picture, Notification Dots, Autofill, and Smart Text Selection.
Next up is the Vitals, which is a new project available for Play that helps developers spot issues with apps that can potentially impact phone security, battery life, and more.
Also, Also, Google has released the second developer preview of Android O and officially beta. You can sign-up for the Android Beta Program. Android O is also bringing many new features and capabilities to enable several options for other apps.
Android Go
Android Go is a lightweight version of the Android O crafted especially for the cheap smartphones. Android Go is designed with features relevant for people who have limited data connectivity and speak multiple languages
AR/VR
Google has announced that their Daydream platform will now support a new type of VR headsets, which is known as standalone VR headsets. These headsets will work alone and they don't require phone or PC.
It features a new headset tracking technology called WorldSense that enables positional tracking. HTC Vive and Lenovo will be the first ones to release such devices later this year. Google also announced that they're working on a service to offer detailed indoor location using the Tango 3D sensing computer vision tech. Google has named this tech Visual Positioning Service.
Miscellaneous - Smart Reply, Tensor Flow Lite, Kotlin, and more
Google Assistant is finally coming to the Galaxy S8 and S8 Plus devices via a software update.
Kotlin is now officially supported as the programming language for Android development. It's the third programming language after C++ and Java to get the support.
Google makes the replying process of its Gmail app much easier by introducing the Smart Reply. This feature was first enabled in Inbox by Gmail app. It suggests three options as the replies to each email, a user can select any one or edit it and send it. This saves a lot of time.
Google has released an update to Device Manager application and renamed it to 'Find My Device' and in addition to this, it also adds new user interface improvements. The app lets the users locate their misplaced or lost smartphones, watch or tablets.
Google revealed that TensorFlow Lite is a skinned version of the original TensorFlow designed to be used on Android smartphones.
So, these were the highlights from the Day 1 of Google I/O 2017 Keynote. Click their links to know more about these announcements.