Oppo has officially showcased a new kind of display that has an extremely curved glass design. What is shared by Oppo and its VP Brian Shen, the device featuring this new tech has a dual-edge curved screen and the company likes to call this Waterfall Screen. Oppo didn't elaborate much on it but it did share some pictures and videos to let us know how this display looks like.
Well, the name of the tech does complete justice to the look of the display. There are very thin bezels on the top as well as on the bottom, that's how the screen flow vertically like a stream, unlike other bezel-less phones available in the market. Plus the dual-edge screen makes the display looks more fluid and lively just like the waterfall. It appears the device which is featuring this tech has a 21:9 aspect ratio just like the Xperia 1, but Oppo's take looks more refined and better too.
According to Ice Universe, a tipster that serves several leaks mentions the edges on the prototype phone featuring Oppo's Full-Display 2.0 curve at 88 degrees, which is close to right angles. This curvature looks more pronounced than the ones found on flagship phones from Samsung, Huawei, and the very recent OnePlus 7 Pro.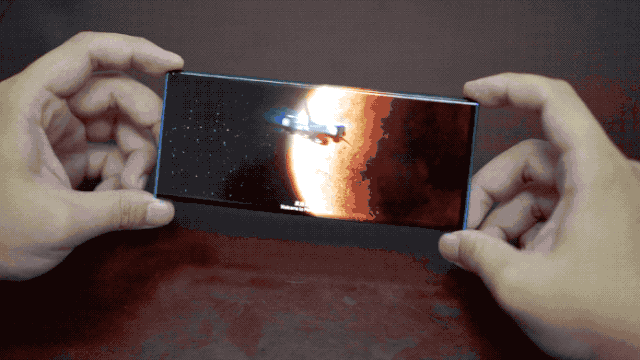 Another interesting thing to note in this Waterfall display is that there's no notch, punch-hole, or whatsoever to accommodate the selfie camera and nor is the device has that thickness for a movable mechanism for a pop-up camera. So, it appears the device will feature the under-display camera tech which the company showcased at the Mobile World Congress (MWC 2019) Shanghai tech trade show in June. Under-display tech embeds the camera beneath the top portion of the display which remains invisible while using the device and only appears when the front camera is invoked.
Oppo hasn't shared any other details of this tech but it appears we may soon see something tangible and functional. Currently, it's just the prototype that has been teased by the company to show what new things it's testing and has in store for you. We need more insights on the same to conclude.